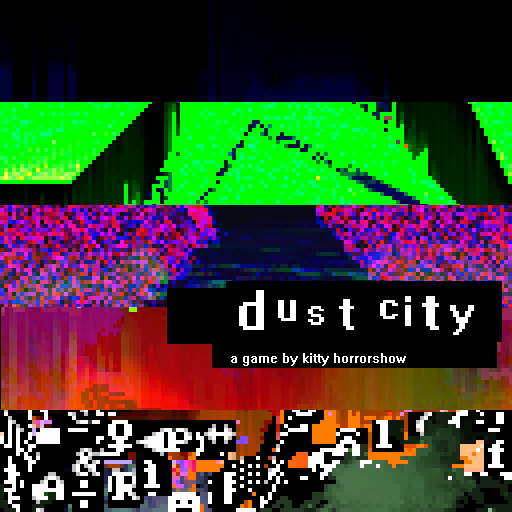 DUST CITY
A downloadable game for Windows, macOS, and Linux
A CITY HAS APPEARED IN THE "CRATER."
Satellite imagery verifies that the city had not existed within the crater prior to 12 hours ago.
You have been randomly selected to investigate the city in the crater to search for anomalies, artifacts, or clues as to the nature of the city.
THINGS YOU WILL NEED:
1. Standard issue Esotech Arcanodex 5 (included)
2. Pencil and paper (not included)
3. Level 3 magical protection (provided by Agency-appointed staff ritualist)
Due to the hazardous and unpredictable nature of 'Doors,' the Agency will be incapable of monitoring your progress should you enter a building or structure. In such an event, utmost caution is to be used.
---
DUST CITY is the first complete 3D game by me, Kitty Horrorshow!! scour a ruined city for strange artifacts! jump around and touch crystals! listen to the humming of unnatural geometry! and much more!! it's pretty rough around the edges i'm sure but i'm really proud of it. the game is COMPLETELY FREE with the option to donate if you liked it a whole lot and feel like supporting my work, but only if you can ABSOLUTELY afford to, okay?
thanks for playing! <3
---
!! UPDATE !! - 9/7/2014 - HEY did you experience problems with input? some users did!! in order to hopefully fix that, I uploaded a version of DUST CITY with an alternate control scheme! BOTH the original controls and the alternate controls should work just fine, so if you had trouble with the original, please download "DUST CITY alt"! thanx!!
Download
Click download now to get access to the following files: